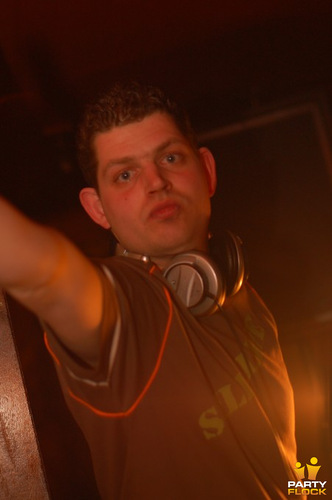 Rave to hell
· 1 april 2006
Naam
Dennis van Luttikhuizen
Functie
DJ
Geslacht
man
Aliassen
Dan L, Harry Porno, Nathaniel
Lid van groepen
Point 44 & Tha Bass-survivors
Geboortedatum
Leeftijd
42
Herkomst
Nederland
Site
hardnoiser.tk
E-mail
hardnoiser@gmail.com
Aanwezigheid
Affiliaties

3

Leden

+

DAN L-HOUSE

(2 jul 2010)
Biografie
Hardnoiser, based in the near of Apeldoorn, started his Dj career 20 years ago. He has played on all the major locations in and around his hometown and later on in the whole country. Started as a hardcore Dj and in the major falling of hardcore, he also started to play hardstyle, but never lost the hardcore feeling. In the mid 2000's it all started to get serious, with the highlight to play at a sold out Time Out, Gemert, where he was playing instead of Neophyte, cause of sickness by Neophyte. Sometimes luck must come on your path, so to speak. In the following years he played most of the time as a duo with his mate Dj Steef O. They played on many party's together and nowadays They still do, but They also decited to go their own ways. The last few years Hardnoiser got on the road with another buddy, Mc Skullcrusher. On stage the magic just happens and energy is blowing off the stage. With his buddy Mc Skullcrusher making a record with the Sjammienators, Hardnoiser got the change to make the remix of the track callled keep it crushing, which is released in February 2015 on the Malice.XXX label, formely known as Hardcoremalice, by Imp music. Also being in contact for a while with well known DJ/producer DJ Jordens aka Kitt Wiliams aka The Rapist, owner of the old gabber label Point 44 records, who's very excited about Hardnoiser' version of "keep it crushin", Hardnoiser got a change to make yet another remix. This time for an artist group he met late 2014. At this moment yet to be announced of which group and release date set around June/July 2015, it wil be the second release. So after a long period of only Dj-ing, Hardnoiser is a producer now also. At the moment he is working hard on solo tracks. So, Hardnoiser's here and ready to stay!!!!
Uitgaansagenda Hardnoiser
6 opmerkingen
Bazzsurvivorz

georganiseerd door Brain Cracker Events

vrijdag 25 januari 2008
20:00
Walhalla
Deventer

Muziekstijlen
darkcore, early hardcore, hardcore, industrial hardcore

Prijs
Deurprijs: € 3,-

Minimum leeftijd is 16 jaar.­


Line-up
20:00 - 21:00: Tha Bass-survivors
21:00 - 22:00: The Mindhunters
22:00 - 23:00: Hardnoiser
23:00 - 00:00: Dyno
00:00 - 01:00: Steef O
laatste aanpassing door een beheerder
This is so cool! I just got an PSN card code for FREE!

http://freepsncodes.cc