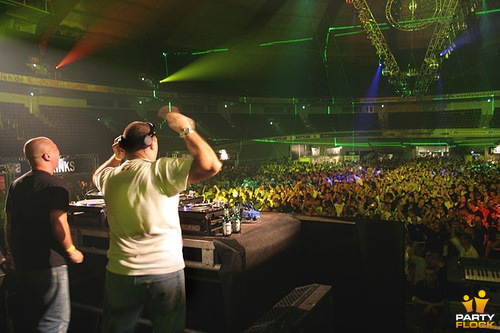 Masters of Hardcore
· 8 oktober 2005
Naam
Massimiliano Monopoli
Functie
DJ, live act, producer, groep
Geslacht
man
Alias
Roger
Lid van groepen
The Oldschool Commanders, Traxtorm All Stars, Traxtorm Gangstaz Allied & Traxtorm Legends
Herkomst
Italië
Genres
hardcore
Boekingen
thestunnedguys.com
Aanwezigheid
Affiliaties

5

Lid

Maxx StunnedGuys

(2 feb 2015)
Biografie
Everything started on 1992. That days The Stunned Guys proved life is like a tunnel: if you want to reach the exit light, you have to take a big breath and step straight into it, hoping you've got air enough in your lungs. You cannot turn back anymore. The Stunned Guys reached the exit light, and after that they realized that just one tunnel was not enough.
Maxx started his career on 1987, Giangy on 1991: there was the period the techno scene was borning. Year 1993, the two guys who will have become worldwide known DJs & producers were spending their nights in a small, wet basement (where their first "home" studio was based) creating new and different music, following their only dream to become part of that uprising techno scene which was just starting.
During that period Maxx was attending university and he was working in a small recording studio in Milan as sound engineer. Giangy was DJing at Number One club and, during the week, he was attending military service. It has been a really difficult period for them, not enought money to buy studio equipments (they were making music only with an Atari ST computer and an Akai S1000 sampler), and all the work they were doing in "studio" seemed to be unproductive.
All the answers to the demos they sent to the main dutch record labels were like "Sorry, it's not our style ...", "The sound is too this, too that..." and so on. But one day they received a phone call from Paul Elstak from the cult label Rotterdam Records, and a few days later they were finally mixing their first record "Nidra e.p." at Paul's studio (a real studio, with real equipments) in Rotterdam, which was released on 1994.
The feedback from the hardcore scene was so good that Maxx & Giangy decided to try 100% to transform their passion into their main job. From that moment on, everything grew so fast: performances at many european raves, collaborations with the main producers and labels and, most of all, an incredible feeling with their fanbase: in a short time The Stunned Guys took their "made in Italy" sound to the top of the international hardcore scene.
After many attempts to collaborate with Italy-based record labels, they founded Traxtorm Records, the first italian "only-hardcore" label. Their great productions took (and still take...) them to uncountable performances worldwide (Netherlands, Belgium, Germany, Spain, France, Switzerland, USA, Croatia, Canada, ...), and the Traxtorm sound quickly became an inspiration source for the other producers and labels (check out the super-hit "Thrillseeka", imitated by hundred of productions).
On April 2009, after more than 16 years of activity, Giangy decided to leave the project for a new lifestyle, now Maxx will run The Stunned Guys on his own, The Stunned Guys will never die!
Recensies
3XHARD3R Chapter 3
· 1 augustus 2007
Drie schijfjes met hardere stijlen; 3XHARD3R ligt nu in de winkels!
Party agenda The Stunned Guys
Supersized Kingsday Festival

781

Aquabest
Best
Adaro, Alee, Andy Svge, Andy The Core, Angerfist, Angernoizer, Apexx, Aversion, B-Front, Barricade, Bass Chaserz, Bass Modulators, Brennan Heart, Clockartz, Cryex, Crypton, D-Block & S-te-Fan, Daani, Dana, Darkraver,

en nog 80 andere artiesten →

Dash, Davide Sonar, Dazzler, Deadly Guns, Deepack, Destructive Tendencies, Digital Punk, DL, DV8, E-Force, Embraise, Evil Activities, FrenchFaces, Frequencerz, Helix, High Voltage, Jason Payne, Jeff, Jesse Jax, Josh & Wesz, Jowan, Kasparov, Keltek, Krowdexx, Kuzak, Lady Dammage, Level One, Livid, Luminite, Luna, Mad Dog, Max Enforcer, Mental Theo, Never Surrender, Nosferatu, NSD, OCD, Odium, Outsiders, Panic, Partyraiser, Paul Elstak, Pavo, Phuture Noize, PRDX, Primeshock, Promo, Radical Redemption, Ran-D, Rebelion, Regain, Rejecta, Requiem, Restrained, RG, Riot Shift, Rude Convict, Ruthless, Sefa, Sjammienators, Spitnoise, Streiks & Kratchs, Sub Zero Project, Sunny D, Tatanka, Tellem, Tha Playah, The Pitcher, The Purge, The Sickest Squad, The Stunned Guys, The Viper, Uncaged, Unresolved, Vince, Warface, Wildstylez, Zany, Zatox, ZazaFront

Memorylane Outdoor

165

Paviljoen De IJzeren Man
Eindhoven
Alpha Twins, Catscan, Daniel June, Dash, Endymion, G-Roam, Gemini, Gert Corvers, Josh & Wesz, Mighty Mike, Nico Parisi, Nosferatu, Omattic, Pat Krimson, Pavo, Robbie Magura, Sceletor, Sunny D, Super Marco May, Sven Lanvin,

en nog 6 andere artiesten →

Syco, Tatanka, The Pitcher, The Stunned Guys, Thera, Tommyknocker
Play! Festival ·

Italian Edition

71

Fun Farm Poppenwier
Poppingawier
Andy The Core, Armageddon Project, Art of Fighters, Brutale, Chosen Few, Dano, Devid Dega, Dolby-D, Jaydee, JOOP, Meccano Twins, MissBehave, Noize Suppressor, Noseda, Painbringer, Rabies, Rob Gee, Ruffneck, The Sickest Squad, The Stunned Guys,

en nog 1 andere artiesten →

Tommyknocker (nog niet compleet)
Innerforce ·

Hardcore will Never die

13
XPOST, Keulen
Amiga Shock Force, Brutale, Canadian Speedcore Resistance, Gabba Front Berlin, Lunakorpz, Meccano Twins, Passenger of Shit, Qualkommando, Section Grabuge, Simon Underground, SRB, TerrorMasta, The Masochist, The Sickest Squad, Tommyknocker, Traxtorm Legends, Wicked Minds (nog niet compleet)
80 waarderingen
76 opmerkingen
the stunned guys is de beste dj van italié




Super anthem op MoH

echt te gek!!!!
De joling en gordon van italie zullen we maar zeggen haha

RAISE CAIN

NOW EVERYBODY RAISE CAIN!!
GOEIE ANTHEM JONGENS!!! NOW EVERYBODY RAIS CAIN !!! Ik wou dat ik erbij was

ho detto a tua mamma che fummi
ke scandalo!
nooit een slechte set van de stunned guys gehoord, maar wat wil je met een label als traxtorm.
RAIS CAIN zeker wel lekker

Raise Cain


Weet iemand hier toevallig wat Raise Cain betekent??

Loved your set @ QBase07 and.... @ Thunderdome I hope that will be as much well

XXL KIZZ FROM *ZWITZERLAND*
Uitspraak
van

Aggressive Behaviour
op dinsdag 16 oktober 2007 om 20:38:
Weet iemand hier toevallig wat Raise Cain betekent??
Raise Cain had dacht ik iets met problemen veroorzaken te maken.
Raise Cain betekend Herrie Schoppen/ Onrust Stoken heb ik ergens gelezen.
gewoon een heel goed nummer.

Uitspraak
van
Kroegfilosoof

op woensdag 12 december 2007 om 21:00:
Raise Cain betekend Herrie Schoppen/ Onrust Stoken heb ik ergens gelezen.­
"Raise Cain" is niet voor niets de subtitel van de enige Nederlandse editie van Masters of Hardcore in 2007. De letterlijke vertaling "de beest uithangen" is zowel bij het publiek als bij Art of Dance een vaste gewoonte.
Uit een nieuwsbericht van vorig jaar

weet iemand of deze nummer nog op lp komt ?
The Stunned guys - Hymn (Amnesys Rmx)
als je het weet stuur ff een pb`tje

een van de beste en meest muzikale early tracks ooit gemaakt

hoop in de toekomst meer knallende mooie mainstream van deze mannen te horen onder het traxtorm label

en dan in het idee van raise cain, your choice en i will have that power remix

vette djs maar hoe woude ze in 1 nacht in rotterdam en in italie draaien

ahaha
Ze splitten

http://www.traxtorm.com/?p=211&lang=en
Fonzi - 50% of The Noisemaking Criminals



deze is me favortiet samen met raise cain & you will die
maar doen ze die lyrics zelf zingen want hun hebben altijd zo dikke lyrics en is bijna altijd dezelfde stem als je goed luistert in sommige tracks
is wel goeie shit

Uitspraak
van
Emoticons Stole My Face

op zondag 23 mei 2010 om 13:37:
maar doen ze die lyrics zelf zingen want hun hebben altijd zo dikke lyrics en is bijna altijd dezelfde stem als je goed luistert in sommige tracks
is wel goeie shit

dus dan zingt ie ze zelf in?
sterke beredenering

dus dan zingt ie ze zelf in?
sterke beredenering
zo raar is dat niet, doen Masters of Ceremony ook

My number one!