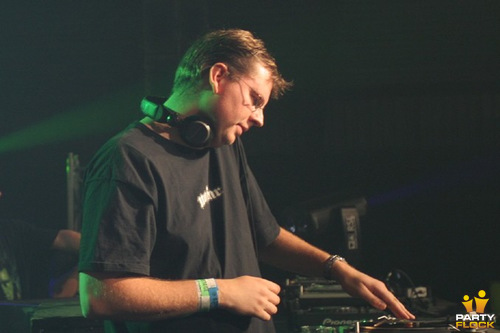 Partyraiser 12 1/2 year jubileum
· 28 januari 2006
| | |
| --- | --- |
| Naam | Eugenio Dorwart & Matthijs Hazeleger |
| Functie | DJ, producer, groep |
| Geslacht | man |
| Groepsleden | |
| Herkomst | Nederland |
| Genres | hardcore, oldschool |
| Aanwezigheid | |
| Affiliaties | 3 |
Biografie
Bass-D & King Matthew
is a Dutch gabber/hardcore duo. Started the label
Masters Of Hardcore
.
Eugenio
started playing in a club in Bussum, the Netherlands, when he was fourteen. He reached third place once in the scratch-mix championship and Dutch championship of house-mixing.
Matthijs started in 1988, presenting a house program on the radio. He met
Eugenio
for the first time in 1991, when he was a guest DJ on his program, and they decided to mix together at a party. This worked out well and so the partnership was born.
Uitgaansagenda Bass-D & King Matthew
Masters of Hardcore ·

Magnum Opus × 25 Years

8
2495

Brabanthallen
's-Hertogenbosch
Act of Rage, Akira, Alee, Amnesys, Andy The Core, Angerfist, AniMe, Bass-D & King Matthew, BillX, Blaster, Bloodlust, Broken Minds, Bulletproof, Buzz Fuzz, Catscan, Crucifier, D-Fence, D-frek, D-Sturb, Da Mouth of Madness,

en nog 82 andere artiesten →

Dana, Darkraver, Dart, DaY-már, Deadly Guns, Deathroar, Delete, Delta 9, Den=, Destructive Tendencies, Digital Punk, Dione, Dither, Dr. Peacock, Dr. Terror, Drokz, DRS, E-Force, Evil Activities, F. NøIzE, Floxytek, Furyan, Gizmo, Hard Infantry, Hellsystem, Hyrule War, JKLL, Korsakoff, Lil Texas, Mad Dog, Marc Acardipane, Mike Redman, Miss K8, Mr. Ivex, Mutante, N-Vitral, Ncrypta, Negative A, Neophyte, Never Surrender, Noisekick, Nolz, Nosferatu, Ophidian, Outblast, Panic, Partyraiser, Paul Elstak, Pavo, Predator, Promo, Radical Redemption, Radium, Re-Style, Rebelion, REVIVE, Rooler, Rotterdam Terror Corps, Scarphase, Sefa, Shadowlands Terrorists, Sjammienators, Spitnoise, Sprinky, Sub Sonik, Syco, Tha Playah, Tha Watcher, The Destroyer, The DJ Producer, The Satan, The Sickest Squad, The Speed Freak, The Viper, The Vizitor, Thrasher, Tommyknocker, Tripped, Unexist, Warface, Waxweazle, Weirdo
Masters of Hardcore ·

Vault of Violence

22

Brabanthallen, 's-Hertogenbosch
Masters of Hardcore ·

Tournament of Tyrants

13

Brabanthallen, 's-Hertogenbosch
Masters of Hardcore ·

The Skull Dynasty

16

Brabanthallen, 's-Hertogenbosch
Masters of Hardcore ·

Raiders of Rampage

3

Brabanthallen, 's-Hertogenbosch
Masters of Hardcore ·

20 Years of Rebellion

4

Brabanthallen, 's-Hertogenbosch
Masters of Hardcore ·

Statement of Disorder

5

Brabanthallen, 's-Hertogenbosch
Mindcontroller ·

Relive the past

North Sea Venue, Zaandam
Mindcontroller ·

Re-live the past

North Sea Venue, Zaandam
Dominator ·

The Hardcore Festival

5

E3 Strand, Eersel

Emporium

6

Recreatieterrein De Berendonck, Wijchen
Masters of Hardcore ·

The Voice of Mayhem

2 4

Brabanthallen, 's-Hertogenbosch
Mindcontroller ·

Re-Live The Past

North Sea Venue, Zaandam
Outblast 2009 ·

Only fucking hardcore

North Sea Venue, Zaandam
Mindcontroller ·

Re-live the past

North Sea Venue, Zaandam
Free Festival 10 years anniversary weekender ·

Harder Styles

Atlantisstrand, Almere

In Qontrol

12

RAI, Amsterdam
back2school ·

easter edition

2

Maassilo, Rotterdam

Hardcore Italia

North Sea Venue, Zaandam
Masters of Hardcore Spain ·

Manssion

Manssion, Benidorm
Mindcontroller ·

Re-live the past

North Sea Venue, Zaandam

Happy Hardcore

Matrixx, Nijmegen
Mindcontroller ·

Re-live the past

North Sea Venue, Zaandam
Masters of Hardcore ·

A rage in Italy

Florida, Ghedi

Happy hardcore

Outland, Rotterdam
Masters of Hardcore ·

The Warrior Elite

6

Brabanthallen, 's-Hertogenbosch
Multigroove ·

Elementenstraat Reunion

Paradiso, Amsterdam
Mindcontroller ·

Re-live the past

North Sea Venue, Zaandam
Outblast ·

The 2007 birthday edition

North Sea Venue, Zaandam
Decibel ·

Outdoor festival 2007

2

Beekse Bergen, Hilvarenbeek
Dominator ·

The Hardcore Festival

2

Stadspark, Groningen
Defqon.1 Festival

2007

2

Almeerderstrand, Almere
Zak ·

Late Nite Explodez

Eventcenter Zak, Uelsen
Raveworld ·

15 years Bass-D & King Matthew

North Sea Venue, Zaandam
Masters of Hardcore ·

The Italian madness

Florida, Ghedi

Bassleader

Flanders Expo, Gent
Masters of Hardcore ·

Raise Cain

Brabanthallen, 's-Hertogenbosch
Mindcontroller ·

Re-live the past

Hemkade, Zaandam

Hardcore Junky II

Hemkade, Zaandam

Audio Attack

Hemkade, Zaandam

XXlerator

Matrixx, Nijmegen

Sonic 8

St. Jakobshalle, Basel
Masters of Hardcore ·

Face your fear

Westfalenhallen, Dortmund
Mindcontroller ·

Re-live the past

Hemkade, Zaandam
Q-BASE ·

16 hour day & night

2

Airport Weeze, Weeze
33 ·

Bass-D & Predator's birthday crash

Hemkade, Zaandam

Masters of Hardcore in Italy

Florida, Ghedi
Traxtorm power ·

Invasion of the world tour

Outland, Rotterdam
Titans ·

Playground of the gods

Thialf, Heerenveen

Bass-D & King Matthew

Morgenzon, Zeeland
Buzz Fuzz goes BZRK ·

Bzrk mental health centre

Hemkade, Zaandam
Angerfist ·

Album release party

Hemkade, Zaandam
5 years B2S ·

Day 1

Outland, Rotterdam
Outblast 2006 ·

Hardcore in concert

Beursgebouw, Eindhoven
Masters of Hardcore ·

The Genesis of the Hardcore Legacy

Brabanthallen, 's-Hertogenbosch
Partyraiser 12 1/2 year jubileum ·

Project: One Man // Half Machine

Amstelborgh / Borchland Hallen, Amsterdam
Mindcontroller ·

Re-live the past

Hemkade, Zaandam
Audio Attack ·

Christmas edition

Hemkade, Zaandam
Hardcore Junky ·

presented by Noize Suppressor

Hemkade, Zaandam
Total Confusion special edition ·

Dr. Rude's b-day edition

P60, Amstelveen
Houseqlassics ·

Traveling through time

Heineken Music Hall, Amsterdam
Outblast ·

The 2005 birthday edition

Hemkade, Zaandam

Hardcore vibes

Time Out, Gemert
Masters of Hardcore ·

The Outbreak of Hardcore Psychopaths

Westfalenhallen, Dortmund

Total Confusion

P60, Amstelveen
Mindcontroller ·

Re-live the past

Hemkade, Zaandam

Audio Attack

Hemkade, Zaandam
Dominator ·

The Hardcore Festival

Recreatiepark Het Rutbeek, Enschede

Hardcore United

Beursgebouw, Eindhoven
Masters of Hardcore ·

Swiss Edition

Biella Factory, Biel
Mindcontroller ·

Re-live the past

Hemkade, Zaandam
Planet V.I.P. ·

The Bangin' Midnight Circus

Club Noa, Leeuwarden

Nightmare Outdoor

Strand van Hoek van Holland, Hoek van Holland
Audio Attack ·

Queensday edition

Hemkade, Zaandam

Ghosttown 2005

Vechtsebanen, Utrecht
Masters of Hardcore 10 years ·

The Core Supremacy

Thialf, Heerenveen

Buzz Fuzz goes BZRK

Hemkade, Zaandam

Sonic Rage 2

Muzinq, Almere

Zino

Zino, Tilburg
't Gezellige Oldskoolfeest ·

1 jarig jubileum

Poema, Utrecht
Outblast 2005 ·

Hardcore in Concert

Beursgebouw, Eindhoven

Mindcontroller

2

Hemkade, Zaandam
Flatlinerz ·

New Years Banging

Eventcenter Zak, Uelsen
Megarave

2005

Condor City, Enschede
Headfuck ·

We will f*ck your Christmas up

Hemkade, Zaandam
Ghosttown ·

12½ year anniversary

Vechtsebanen, Utrecht

Hard Bass

Jaarbeurs, Utrecht

10 jaar Hemkade

Hemkade, Zaandam

Hardcore Madness

Tropicana, Rotterdam
Mindcontroller ·

Re-live The Past

Beursgebouw, Eindhoven

Masters of Hardcore

Thialf, Heerenveen

Thrillseeka

HappydayZZ, Culemborg

Hardcore4Life

Tropicana, Rotterdam

Audio Attack

Hemkade, Zaandam
Defqon.1 Festival

2004

Almeerderstrand, Almere

Mindcontroller

Hemkade, Zaandam

Hellraiser

Prins Bernhardhoeve Hallen, Zuidlaren

Scantraxx presentz Hardheadz

Hemkade, Zaandam

2 Fast 4 Trance vs 2Hard4U?

Eurohal Zuidbroek, Zuidbroek

Masters Of Hardcore In Italy

Florida, Ghedi
Navigator ·

The Hardcore Counterstrike

Hemkade, Zaandam

In Qontrol

RAI, Amsterdam
The Night ·

Back to now!

The Bridge, Meppen
35 years of Buzz Fuzz ·

Still Alive

Hemkade, Zaandam
Masters of Hardcore ·

The Underground Vendetta

Beursgebouw, Eindhoven
Audio Attack ·

Can You Take the Shockwave?

Hemkade, Zaandam

T-Time

De Etage, Almere
10 Years Rotterdam Terror Corps ·

The German Edition

Empire plaza, Wesel

Nuclear Bass II

Boogie Bar, Emmen

Mindcontroller

Hemkade, Zaandam
Masters of Hardcore vs Hellraiser ·

The Rise Of Underground Forces

Prins Bernhardhoeve Hallen, Zuidlaren

X-Factor

De Linde, Groesbeek

Qlimax

GelreDome, Arnhem

Outblast Birthday Party

The Power Zone, Amsterdam

Tea Time The Rebirth After

Club Subway, Zaandam

Qlubtempo #23

Hemkade, Zaandam
Rebirth ·

The Grand Slam

De Waakzaamheid, Koog aan de Zaan

Medusa's Rebirth

De Etage, Almere

Mindcontroller

Hemkade, Zaandam

Tea-time

Club Subway, Zaandam
Hardcore Revival ·

Revival chapter 1

Celebration Studio's, Den Haag

Tea-time

Club Subway, Zaandam

2Hard4U?

Vat 69, Leeuwarden

Bass Generation III

The Power Zone, Amsterdam

Medusa's Rebirth

De Etage, Almere

Tea time

Club Subway, Zaandam

Tea-time

Club Subway, Zaandam
Tea-Time ·

Multigroove Special

Club Subway, Zaandam
Tea-Time ·

Dano

Club Subway, Zaandam
Megarave ·

1993-2003

Peppermill, Heerlen
Tea-Time ·

Sunny D

Club Subway, Zaandam
Flatline Hardcore part VIII ·

flatline hardcore part VIII

Dancing Discotheek Quatrebras, Noordbergum
Tea-Time ·

Darkraver

Club Subway, Zaandam

Subway Saturday

Club Subway, Zaandam
Tea-Time ·

BZRK Records Special

Club Subway, Zaandam
Tea-Time ·

Bass-D & King Matthew

Club Subway, Zaandam
Hardcore Resurrection ·

The Audio Alliance

Heineken Music Hall, Amsterdam
3 Steps Ahead For Life ·

The official fundraising event

Hemkade, Zaandam
Tea-Time ·

Dana

Club Subway, Zaandam

Solution

Jongerencentrum Solution, Hillegom

Direct Vision

Jongerenpodium R17, Grootebroek
Masters of Hardcore ·

The evilution of abondoned souls

Beursgebouw, Eindhoven
Defqon.1 Festival

2003

Almeerderstrand, Almere

Back2school

Ministry of Dance, Rotterdam
Tea-Time ·

Bass-D & King Matthew

Club Subway, Zaandam

Traxtorm Power

Ministry of Dance, Rotterdam

Mindcontroller

Hemkade, Zaandam

Club Hardcore

The Wall, Weelde

Judgement Day

Area 51, Bochum
Hellraiser ·

Bigger Than Ever

Prins Bernhardhoeve Hallen, Zuidlaren
Tea-Time ·

Bass D

Club Subway, Zaandam

Bass Generation

Hemkade, Zaandam
Palladium Reunie ·

March edition

Danspaleis Haaksbergen, Haaksbergen
Masters of Hardcore ·

The reincarnation of forbidden sounds

Beursgebouw, Eindhoven

Houseqlassics

Heineken Music Hall, Amsterdam

Hardcore Reload

N201, Aalsmeer

Old meets New

Club Subway, Zaandam

Mindcontroller

Hemkade, Zaandam

Bass Generation

The Power Zone, Amsterdam
Thunderdome 2002 ·

A Decade

3

RAI, Amsterdam

Speedrazor

Funbox Amalie, Essen

Members of Hardcore

Mensa Academica, Aachen

Hardcore4Life

Platte Zaol, Maastricht

Hardcore Rebirth

Club Up, Almere

Raveworld (Megarave)

Peppermill, Heerlen
Club Q-Base ·

Classics

Hemkade, Zaandam

Platinum

P60, Amstelveen

Hardcore Vibes

Atlantisstrand, Almere

Hardcore Vibes Afterparty

Club Up, Almere

Hardcore4Life

2

Tropicana, Rotterdam

Extreme Invasion vs Masters Of Hardcore

Palazzo delle arti e dello sport Mauro de Andre, Ravenna

D-Boy Invasion

The Power Zone, Amsterdam

Houseclassics at Club Up

Club Up, Almere

Hardcore Rebirth

Club Up, Almere

Real Hardcore

Huize Maas, Groningen

House Classics @ Club Up

Club Up, Almere

New adventure of hardcore

Masters of Hardcore

Beursgebouw, Eindhoven

Hardcore4Life

Ministry of Dance, Rotterdam

Underground Conspiracy

Scanners, Dordrecht

Hardcore Nation

Fila Forum, Milaan

Dance Exodus

Hotel Avenhorn, Avenhorn
Hardcore Nation ·

Warm Up

Hangar One, Locarno

'91-'92 The Dominator

USC De Boelelaan, Amsterdam

Lords of Terror

Huize Maas, Groningen
Raving Nightmare ·

Night of the Rebirth

Platte Zaol, Maastricht

Masters of Hardcore

Hemkade, Zaandam
Goliath ·

Part 9

Sulzer Areal, Winterthur

Houseqlassics

Heineken Music Hall, Amsterdam

Atlantic Hardcore Zone

Atlantisstrand, Almere

Megarave 2001

Peppermill, Heerlen

Hardcore Ressurection

Hemkade, Zaandam
Multigroove ·

the delicate sound of thunder

Hemkade, Zaandam

Thrillseeka

Scanners, Dordrecht

Hardcore4Life

E-xlipse, Landgraaf

Masters of Hardcore

Hemkade, Zaandam

The Hardcore Zone

Sportpark De Korver, Almere

Chaos Birthday Party

Nighttrain, Middelburg

Raveworld

Peppermill, Heerlen

Masters of Destruction

Discotheek Crazy, Elten
Paranoid ·

Masochist Birthday Party

Cameleon, Bussum

Hardcore Overdrive

Sportpaleis Antwerpen, Antwerpen

Bumpp

Dixies, Brasschaat

A Nightmare in Germany

Tarm Center, Bochum

Thrillseeka

Scanners, Dordrecht

Masters of Hardcore

Hemkade, Zaandam

Masters Of Hardcore In Italy

Extreme Gheodrome, Rimini

Mass Hysteria

Dynamo, Eindhoven

Pinhead 4

Het Bolwerk, Sneek

Masters of Hardcore

Hemkade, Zaandam

Hardcore 2001

Peppermill, Heerlen
Sweetlake 4 ·

Sweet X-Mass

Houtrusthallen, Den Haag
Resident E ·

X-Mass Warm-up

Maxx Music Hall, Hamburg

Global Sounds

Partycentrum Zichtenburg, Den Haag

Thrillseeka

Scanners, Dordrecht

Earthquake

USC De Boelelaan, Amsterdam
The Final Fantasy II ·

Hardcore Religion

Planet, Dülmen
DJ Partyraiser ·

Birthday party

Club Avenue, Den Haag
Earthquake ·

The Ultimate Hardcore Event

Platte Zaol, Maastricht
Masters Of Hardcore ·

German Edition

Area 51, Bochum

Thrillseeka

Scanners, Dordrecht

Masters of Hardcore

Hemkade, Zaandam
Fun Festival ·

Hard Harder Hardest

Hemkade, Zaandam

Megarave

Peppermill, Heerlen
The Golden Edition ·

1991 - 1992

Hemkade, Zaandam

Hardcore Resurrection

Vechtsebanen, Utrecht

Hardcore Confrontation

«O» Dance Theatre Den Haag, Den Haag

Masters of Hardcore

Hemkade, Zaandam

Fox's Hardcore

Subway, Tilburg
Bone attack ·

3rd edition

Subway, Tilburg

Judgement Day

Area 51, Bochum

Raveworld

Peppermill, Heerlen

Apocalypse 2000

Magic 3, Selm

Bass-D & King Matthew's Birthday Party

Locomotion, Zoetermeer
UHM ·

Anniversary party

Platte Zaol, Maastricht

Buzzy's B-Day Party

Bayside Beach Club, Amsterdam

Masters of Hardcore

Hemkade, Zaandam
Ruhr-G-Beat Hardcore ·

Baby Raw's Birthday Party

Metzen's, Dortmund
Rave the Universe ·

The reunion

Peppermill, Heerlen

Century Rebirth

Subway, Tilburg

Army Of Hardcore II

Zentralhallen Hamm Gmbh, Hamm

Digital Overdose

WTC Expo Leeuwarden, Leeuwarden

Hardcore Overdrive

Sportpaleis Antwerpen, Antwerpen

Masters of Hardcore

Hemkade, Zaandam

Raving Nightmare

Peppermill, Heerlen

Traumatown

Dynamo, Eindhoven

Energy99

Hallenstadion, Zürich

Gods of hellfire

Bayside Beach Club, Amsterdam

Dj Norman's Birtday Party

Locomotion, Zoetermeer
Masters of Hardcore ·

The time is near... for revolution

Hemkade, Zaandam

Overdrive X

Doornroosje, Nijmegen
Evil Dreams ·

The Anniversary Edition

Partycentrum Zichtenburg, Den Haag

Megarave

4

Energiehal, Rotterdam
Als Je Doet Of Je Neus Bloedt ·

Kleeft Er Bloed Aan Je Handen

Hemkade, Zaandam

Coming Hardcore

Tagrijn, Hilversum

The Last Hardcore Party @ Broadway

Club Broadway, Erp
Back 2 School ·

Easter Edition

Club Heat, Rotterdam
Bass-D & King Matthew's ·

Birthdayparty

Hemkade, Zaandam
Megarave '99 ·

Reunion party

Cargo Music & Party Hall, Spijkenisse

Broadway

Club Broadway, Erp

Megarave

Energiehal, Rotterdam

Thunderdome '98

3

WTC Expo Leeuwarden, Leeuwarden

Hardcore & Rave Megamarket Afterparty

Club Heat, Rotterdam

Hardcore & Rave Megamarket

Energiehal, Rotterdam

Masters of Hardcore

Hemkade, Zaandam

Hardcore Nation

Loose End, Reeuwijk

RTC part

Cherrymoon, Lokeren

Rave Reaction

La Vie en Rose, Roosendaal

Hardcore Unlimited

Club Trance, Eindhoven

Lloret de Mar Reunion Party

Cargo Music & Party Hall, Spijkenisse

Cyber Ville

Muiderzand, Almere

Rotterdam Terror Corps

Colossos, Lloret de Mar
Rotterdam Terror Corps ·

From dusk till doom

Colossos, Lloret de Mar
Cyberzone ·

Part III

Two Brothers, Harkstede
Rotterdam Terror Corps Party ·

From Dusk Till Doom

Cargo Music & Party Hall, Spijkenisse

Judgement Day

Newcastle University Students Union, Newcastle
Hardcore Nation ·

The Club

Model Traumwelt, Essen

Hellraiser

Sporthallen Zuid, Amsterdam

Kozmoz Heropening

Kozmoz, Sint-Lenaarts

Hardcore Madness

De Zon, Bodegraven

Hardcore Unlimited

Club Trance, Eindhoven

Hardcore Angels

Zaal Schorvoort, Turnhout

Gravedigger on Tour '98

Inslag Sportcentre, Breda

European Hardcore United

Fantasy, Dülmen

Raveworld

Peppermill, Heerlen
Shadowlands ·

Queensday rave

Beursgebouw, Eindhoven

Hardcore & Rave Megamarket

Energiehal, Rotterdam
Masters of Hardcore ·

Queensdayparty

Hemkade, Zaandam

The Gods Of Hardcore

New Azelhof, Lier

Gods Of Hellfire

Club Dance Palace, Almere

Hardcore Overdose Party

Cargo Music & Party Hall, Spijkenisse
Hardcore overdose ·

Party

Cargo Music & Party Hall, Spijkenisse

Gods Of Hellfire

Club Dance Palace, Almere

Judgement

Royal Highland Centre, Edinburgh

Gods Of Hellfire

Club Dance Palace, Almere

Masters Of Hardcore

Kozmoz, Sint-Lenaarts

Intensive Care

Hemkade, Zaandam
Hardcore Angels ·

On Tour

Kozmoz, Sint-Lenaarts
Hellraiser ·

Intensive Care

Cherrymoon, Lokeren

Gabbagraveyard

Zaal Geerts, Stampersgat
Hardcore Angels ·

On Tour

Stedelijke sporthal Axion, Geel

Masters of Hardcore

Hemkade, Zaandam

King Matthew's Birthday Party

Club Dance Palace, Almere

Mortal Sinner

El Toro, Goes

Demon Night

Club Galaxy, Landgraaf

Terrorzone

Jongerencentrum de Koog, Noord-Scharwoude

Hellraiser

Hemkade, Zaandam
Hardcore Nation ·

Release Party

Dietrich-Keuning-Haus, Dortmund

Hardcore

Club Trance, Eindhoven
Speedrazor vs Nightmare ·

The Ultimate New Years Rave

Beursgebouw, Eindhoven

Megarave 98

Energiehal, Rotterdam
Masters of Hardcore ·

Christmas Edition

Hemkade, Zaandam
Planet Hardcore '97 ·

The Final @ Asta

AStA, Den Haag

Bass D & King Matthew

Jongerencentrum De Peuk, Valkenburg
Waxweazle Birthday Party

1997

Cargo Music & Party Hall, Spijkenisse

Hardcore & Rave Megamarket

Energiehal, Rotterdam
Hardcore Nation ·

The Club

Model Traumwelt, Essen

Demon's Night

De Gilden, Turnhout
Thunderdome XIX ·

on Tour

Bob's, Uitgeest

Judgement Day

Newcastle University Students Union, Newcastle

Hakkuh

Locomotion, Zoetermeer

Rotterdam Terror Corps Party

Madonna, Alphen aan den Rijn
Thunderdome XVIII On Tour ·

Psycho Silence

Bob's, Uitgeest

MC Raw Birthday Party

Club X, Wuustwezel
Thunderdome XVIII on Tour ·

Psycho Silence

Paradiso, Dülmen

The Lost World of Hardcore

De 2 Gemeenten, Irnsum
Masters Of Hardcore ·

From All Around The World II

Hemkade, Zaandam

Radioactive Zone Party

Peppermill, Heerlen
Dr. Z-Vago Birthday Party ·

Part 2

Club Dance Palace, Almere

Hardcore

Club Trance, Eindhoven

Thunderdome On Tour

Palladium, Haaksbergen

The Darkraver's Birthday Party

Club X, Wuustwezel

Speedrazor

Triavium, Nijmegen

Rotterdam Terror Corps Party

Madonna, Alphen aan den Rijn

Hardcore Night

Palladium, Haaksbergen
Hellsound ·

The paradise of pain

Hemkade, Zaandam
Beach Pop ·

Midzomer Dance Festival

Strand, Renesse

ID&T @ Megafestatie '97

Jaarbeurs, Utrecht

Mystery Land

Recreatieplas Bussloo, Bussloo

DJ Yves Birthday Party

Club X, Wuustwezel

Terror machine

Nijverheidsweg, Amersfoort

Fata Morgana

Bayside Beach Club, Amsterdam

Waxweazle Labelnight

Hemkade, Zaandam

Fata Morgana

Bayside Beach Club, Amsterdam

Masters of Hardcore

Hemkade, Zaandam

Hardcore

Club Trance, Eindhoven

Fata Morgana

Bayside Beach Club, Amsterdam

Blackout

Expo Center, Hengelo
Fata Morgana ·

The Grand Opening

Bayside Beach Club, Amsterdam

Predator

De Vriezerbrug, Tynaarlo

Hardcore & Rave Megamarket

Energiehal, Rotterdam

Prophecy

Madonna, Alphen aan den Rijn
Total Sleepless ·

Luilak Party

Kaoetsjoek, Aalsmeer

Turn It Up

Turn It Up, Elten

Hardcore vs Oldstyle

Planet V, Landgraaf

Hakke & Zage for kids

PWA Hallen, Zoetermeer

Thunderdome XVI on Tour

Bob's, Uitgeest

Distortion Birthday Party

Peppermill, Heerlen

Thunderdome On Tour

Topa, Geldrop

Megarave Records Party

Afterclub The Limit, Hilvarenbeek
Odyssey 4 ·

The Return

Altes Gugelmann areal, Roggwil

Demolition on Tour

Boo Boo's Dance, Weelde

Terror Machine

Meeting Point Achterzijde CS (Bus opstap), Amsterdam
Thunderdome

1997

4

Sportpaleis Antwerpen, Antwerpen

The Labyrinth "Versus"

USC De Boelelaan, Amsterdam
Rave the City ·

Planet Hardcore

IJsselhallen Zwolle, Zwolle

Raver's Night

Palladium, Haaksbergen

Sons Of Satan Entertainment

Peppermill, Heerlen

Hardcorps Party

Madonna, Alphen aan den Rijn
Rough Cuts I ·

Paralize or Terrorize

Brouwer, Utrecht
Back To The Underground ·

Raverunners Birthdayparty

B-Fifty Two, Hulsberg

Megarave Records Party

Teejater, Naaldwijk
Thunderdome XVI ·

On Tour

Palladium, Haaksbergen
The Ultimate Hardcore Trip ·

X-tra Days During Carnaval

Topa, Geldrop

Masters of Hardcore

Hemkade, Zaandam

Terror city

Nijverheidsweg, Amersfoort

Killer Whale Productions

The Dance Factory, Almelo

Welcome To Planet 666

Route 666, Hulsberg

The Hardcore Nation

Dietrich-Keuning-Haus, Dortmund
Raving Nightmare ·

On Tour

Club Broadway, Erp

Terror city

Peppermill, Heerlen
Shadowlands rave ·

Newyears party

Beursgebouw, Eindhoven

Digital Overdose

Vechtsebanen, Utrecht

Megarave 1997 Newyearsparty

Energiehal, Rotterdam

Broadway

Club Broadway, Erp
Thunderdome XV ·

Membernight

Hemkade, Zaandam

The Awards

Escape Club, Amsterdam

Distortion Hardcore Party

Cargo Music & Party Hall, Spijkenisse

Masters of Hardcore

Hemkade, Zaandam

Weekends

Bar - Disco Weekends, Hengelo
Dreams Of Silence ·

Part 7

Houtrusthallen, Den Haag
The Revolution ·

Shadowlands rave

Thialf, Heerenveen

Rave the Universe

Peppermill, Heerlen
Broadway ·

Thunderbass

Club Broadway, Erp
Carte Blanche ·

Hardcore Night

Carte Blanche, Weert

Hardcore on Saturday

Route 666, Hulsberg

DJ Tango's Birthday Party

Carte Blanche, Weert
Hard Rave ·

Mission Warp Drive

Fauna, Schilde
Hardcore Devil Party ·

Birthday Party

Houtrusthallen, Den Haag

Thunderdome XIV on tour

Ziegelei Groß Weeden, Sierksrade
Thunderdome XIV On Tour ·

Death Becomes You

Tribehouse, Neuss

The Ultimate Hardcore Trip

Topa, Geldrop

Gabber Hall

Magic 3, Selm

The Gabbadrome

Topa, Geldrop

Thunderdome on Tour

Luxor, Arnhem

MC Raw Birthday Experience

Topa, Geldrop
Bassrave ·

The Ultimate '96 Spain Reunion

La Xala, Rotterdam

The Ultimate '96 Spain Reunion

La Xala, Rotterdam

The Gabba Graveyard

Zaal Geerts, Stampersgat

Shadowblaster The Afterparty

Kolpinghuis, Nijmegen

Distortion Hardcore Party

Cargo Music & Party Hall, Spijkenisse

Thunderdome In Germany

SKH Sport & Kongresshalle, Schwerin

Hardcore Madness

De Zon, Bodegraven

Masters of Hardcore II

Hemkade, Zaandam
Thunderdome XIV On Tour ·

Death Becomes You

Club X, Wuustwezel

Hardcore Overdose

Da New Warehouse X, Rotterdam
Ravers Religion ·

Total Confusion

Sportcentrum Kardinge, Groningen

Terror Machine

Nijverheidsweg, Amersfoort
Route 666: Hardcore ·

On Saturday

Route 666, Hulsberg
Thunderdome XIII ·

On Tour

Casino Blankenberge, Blankenberge
Rave The Universe

6

Peppermill, Heerlen

Raving Nightmare 5

Peppermill, Heerlen
Mystery Land

1996

Welschap, Eindhoven

Twilight Zone

Twilight, Barendrecht

Ravers Paradise

La Xala, Rotterdam

Masters of Hardcore

Hemkade, Zaandam

Terror Machine

Nijverheidsweg, Amersfoort

Amok!..

Parijs

The X-Zone Party

Carte Blanche, Weert

Club Broadway

Club Broadway, Erp

Queensdayrave

Beursgebouw, Eindhoven

Future Rave

Circle Studio's, Dordrecht
Phases ·

Part One

De Waakzaamheid, Koog aan de Zaan

Hardcore Will Never Die !!

Locomotion, Zoetermeer
Thunderdome '96 ·

Dance or Die

WTC Expo Leeuwarden, Leeuwarden
Mix Kampioenschappen 1996 ·

2e Voorronde

Carte Blanche, Weert
Thunderdome ·

On Tour

Alcazar, Puttershoek

Raveworld

Thialf, Heerenveen

Rave Mind

Club Broadway, Erp

Immortal Combat

Sporthal Almere-Buiten, Almere

Club Nightmare

Madonna, Alphen aan den Rijn

Fantasy Gate

Flughafen München-Riem, München

Rave The Universe V

Peppermill, Heerlen

Shadowblaster

Carte Blanche, Weert
Ghosttown ·

Part 2

Fantasy, Dülmen

The New Years Rave Party

Carte Blanche, Weert

Dreamzone III

Sportcentrum Leysdream, Roosendaal

X-Mas Hardcore Party

Cargo Music & Party Hall, Spijkenisse
World Of Pleasure ·

X-Mas Special

Carte Blanche, Weert

Curse of the Pharaohs

Medusa, Almere

Weekends

Bar - Disco Weekends, Hengelo

Temple Of Rebirth

Medusa, Almere

Temple Of Rebirth

Medusa, Almere

2 Hardcore 4 U

Wallstreet, Goes

Tango & Cash Birthday Party

Carte Blanche, Weert

Temple Of Rebirth

Medusa, Almere

Agenda Of Novermber

Carte Blanche, Weert

Temple Of Rebirth

Medusa, Almere

Hardcore Heroes

The Apollo, Helden

Schijt aan de Buren

l'Ambassadeur, Nijmegen
Edge Of Panic ·

1e Voorronde Housecontest

Bos & Duin, Soest

The Ultimate Hardcore Trip

Topa, Geldrop

Distortion Hardcore Party

Cargo Music & Party Hall, Spijkenisse

Rave the Universe IV

Peppermill, Heerlen

Carte Blanche

Carte Blanche, Weert

Megarave VII

Energiehal, Rotterdam
Digital Overdose ·

Ultimate Hardcore Climax

3

Sporthallen Zuid, Amsterdam
European hardcore united part II ·

The hardcore experience

Fantasy, Dülmen

Distortion Hardcore Weekend

Cargo Music & Party Hall, Spijkenisse

Doomsday II

Sporthal Almere-Buiten, Almere

Diamonds Hardcore Party

Diamonds, Eindhoven

Diamonds Hardcore Party

Diamonds, Eindhoven

Tunnel Of Terror

Club TNT, Recklinghausen

A Nightmare in Rotterdam

Energiehal, Rotterdam
Rave the Universe

3

Peppermill, Heerlen

Radioactive Zone

Carte Blanche, Weert
Hardcore ·

Mei

Topa, Geldrop

Wicked City

Need, Oosterhout
The Power Station ·

April

Carmen, Someren

Pure Madness

Bridge, Stein

Happy Happy Happy Core

Mazzo, Amsterdam

Rave Nation

De Kikvorsch, Altforst
Topa ·

March

Topa, Geldrop

Pure Madness

Bridge, Stein

Temple Of Rebirth

Medusa, Almere
Carmen ·

Inferno Records Party

Carmen, Someren

Pure Madness

Bridge, Stein
Amnesia ·

Saturdays In December

Amnesia, Amsterdam

Pure Madness

Bridge, Stein

Earthquake

Groove Club, Gelsenkirchen
Night of the Hools ·

Gabbers gate to nowhere

't Circus, Enschede

Temple Of Rebirth

Medusa, Almere

Pure Madness

Bridge, Stein

Pure Madness

Bridge, Stein

Rave the universe

Bridge, Stein

Temple Of Rebirth

Forty-Five, Bussum

Temple Of Rebirth

Forty-Five, Bussum